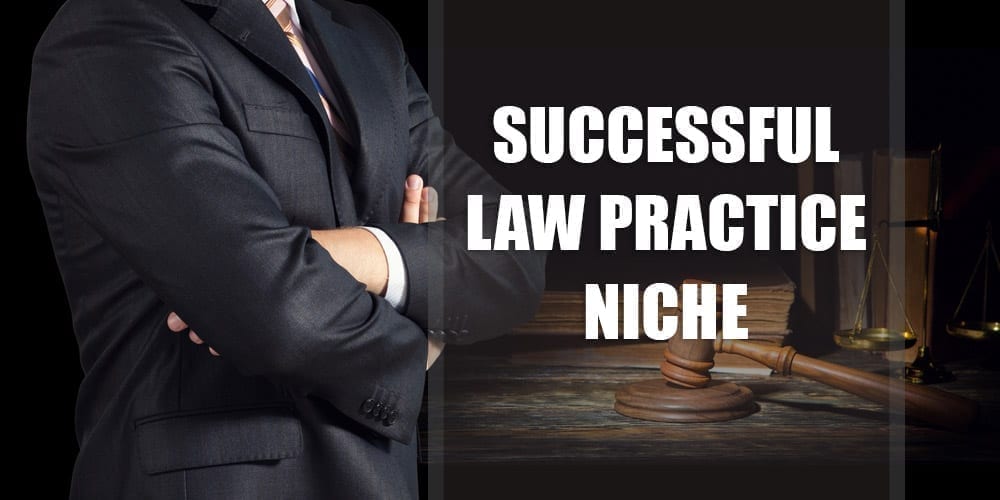 How Law Firms Can Establish a Successful Niche
For a long time, the legal sector was recognized for its homogeneousness, and the marketplace willingly accepted it. However, in recent times, the industry has undergone a significant metamorphosis.
Law, like medicine, is becoming more specialized. The industry is transitioning from guild to marketplace. Specialization is becoming highly valuable in a field that has long been operating in a self-regulated bubble.
Why Differentiation is Important
When a law firm opens its doors, typically, they will be motivated to take on any case that presents itself. After all, the world of business can be harsh, and not many newly established companies find themselves in a position to be overly selectively and turn people away.
But, in due course, many law firms who start as general practices, may decide to narrow their focus. Identifying and focusing on select legal niches that they feel a genuine passion for being involved in. This narrowing of service is a proven strategy for both new and established law firms.
In fact, the number of law firms that provide multiple areas of expertise dwindling. While they still exist, the growing trend in recent years is rapidly moving towards lawyers and firms who specialize in a specific industry or subject. Even firms that do specialize in a wide range of areas tend to have lawyers who concentrate solely on particular niches.
The market now demands specialization.
The implications of legal differentiation are profound. The skills, delivery models, pricing, performance and standard of reward have changed. Law is not merely about selling legal knowledge. A law firm's expertise should be leveraged by technological advancements to provide their clients with faster and cheaper results that are quantifiable, on a predictable and transparent customer-orientated basis.
So, how you model a law firm in alignment with the innovative, continually evolving marketplace?
Finding a Niche
The first step is to identify a niche, one that is truly worthy of your sole concentration. Deciding on a niche can take time and bring an enormous amount of pressure. However, rest assured, you can always change course if your chosen niche proves unworkable – for whatever reason.
You may find the niche isn't something you feel strongly enough about, or it isn't economically viable. Therefore, it is vital to bear in mind that it is easy to adjust your path and try another niche.
So, here is a list of a few crucial factors to consider which will help you find the perfect niche.
Passion
There is no substitute for passion. Following your passion would have to be the best piece of advice I can give. Choosing something you are interested in should seem logical.
But, often lawyers wind up walking down paths of least resistance; rather than persevering on a course that would see them enjoy practicing areas of law that may have inspired them to pursue a career in law in the first place.
Your passion ensures you feel good about yourself and your life's trajectory. Follow your passion can only result in clients getting the best version of you as a person and as a lawyer.
Location
Consider where your firm is located. If you are located or plan to be located in Hollywood or surrounds of Los Angeles, you may contemplate a niche in entertainment law. In Florida, with an older average population, elder law may be a feasible niche. Here in Houston, you may consider a niche in high demand for the oil and gas industry such as energy law.
New Sectors
There are always new areas of law opening up to cater to the market. Some of these emerging industries that present fantastic opportunities include cryptocurrency and blockchain, cannabis, drones, and cybersecurity.
Building a Niche
Once you have selected a niche, the real work begins creating and building it. You need to establish yourself as an authority within that area by expanding your knowledge and reputation in that space.
It would be a great idea to reach out to any relevant publications and offer to write articles. Also, you should attend any industry events and network with other organizations that could need your services.
It's important to find as many ways to become active within your niche. You could join a bar association committee that drafts and lobbies for legislative changes in your area.
If you have chosen a niche in property law, you could network with local real estate agents, or talk to other law firms who do not provide service within your specialization.
Digital Marketing a Niche
Marketing within a specific niche means law firms can narrow their scope to reach only the audience they serve. If you are marketing to a niche online, you may opt to use a domain with the relevant keywords; e.g. your domain name could include keywords like "DUI Lawyer" or "Finance Lawyers".
Having relevant keywords in the domain, or an exact match domain as it's often referred to as is a proven strategy to attract more targeted traffic and boost organic search engine results in the SERPs (Search Engine Results Pages).
Benefits of Building a Niche
Whether you are a young start-up or an established law firm, there are several advantages to building a niche or niches. Here are a few:
1) Less Competitive
Specializing in a specific niche differentiates you from the numerous other law firms in your marketplace. It is a great way to position yourself as the leader, standing out to clients who are looking for a specific service. Building a niche creates competition with other law firms or lawyers in that niche, instead of all practicing lawyers.
In time, with experience, clients will seek your services because they want to work with a lawyer who has knowledge in a specific area. For example, if a client is looking for worker's compensation, they may be seeking a lawyer who's filed litigation involving the same company or has experience dealing with similar circumstances associated with personal injury.
2) Better ROI on Marketing
Focusing on one topic or industry means law firms can achieve a better return on their marketing investment. Instead of multiple campaigns designed for various sectors, you can concentrate all efforts on your actual audience.
3) Financial Rewards
Typically, clients are more likely to pay a premium for a legal service with expertise in a particular area. That means you can create higher profit margins for works rendered within your area of specialty.
4) Fulfillment
It is more likely that you will find greater satisfaction and fulfillment in a chosen niche than practicing more broadly. This is especially true of those who choose to specialize in an area of interest.
Conclusion
Today, law firms can find success by narrowing their focus to a specific niche. The marketplace – more than ever before- are looking for lawyers who have the knowledge and can demonstrate expertise in a particular area.
If your firm is looking for a competitive advantage in your marketplace, consider differentiating your service.