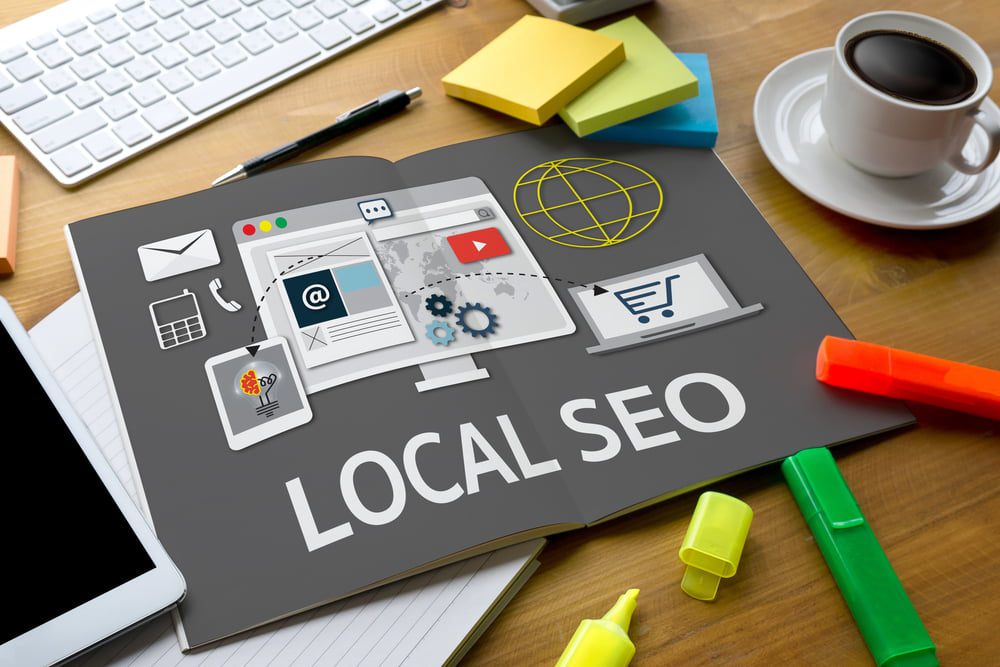 Local SEO – Everything You Need to Know
Local SEO is massive. Nowadays, 46% of all Google searches are local, and 97% of search engine users searched online to find a local business. 
And, yet 56% of businesses have not even bothered to claim their Google My Business listing. 
Does your business appear in the tri-pack – that is the top three local listings – when local customers are searching for companies in your industry?
If so, would they be likely to select your business before another business that offers the same product or service?
This guide looks at everything you need to know about optimizing your company for local SEO.
What is Local SEO?
Local SEO is concerned with optimizing your presence online to attract visitors who are conducting local, geography-specific searches. 
People conduct local searches on all the popular search engines, including Google, Bing, and Yahoo. 
Why is Local Search Important?
As mentioned, nearly half of all searches performed on the world's most popular search engine, Google, is local. Additionally, almost all search engine users will perform a local search at some point. 
But, get this…
According to Think with Google, 50% of people who conducted a local search on their phone and 34% of people who did the same on their computer or tablet, went to a physical store within one day. 
These statistics highlight the power of local SEO. These types of searches invariably lead to sales. 
People conducting local SEO are highly targeted, and motivated potential clients who are looking for a business to fulfill their requirements right now. 
Google's Local 3-Pack vs Organic Search Results
Most people are familiar with Google's organic search results. But many people have never heard of the local 3-pack, otherwise referred to as the snack-pack.
Google's local 3-pack is the boxed search results that appear on page one of Google showcasing the top 3 local search results for a local search. 
Before 2016, Google displayed the 7-pack map or local listing results. However, in August 2016,
Google rolled out an update that saw a significantly reduced (but expandable) style of local listings – Hence, the snack-pack nickname. 
It became more important than ever to out-market your local competitors or risk becoming invisible in local search.
According to this study, 33% of clicks go to Google's local 3-pack, nearly as many as organic search results at 40%.
And, get this…
Astonishingly, Google's local listings show in the number one rank of page one of Google in a whopping 93% of the time. 
Clearly, local SEO is essential. Arguably, as crucial as traditional SEO where the focus is dominance in the organic search results. 
So, let's dive into the factors you need to take into consideration to optimize your business for local SEO.
Local SEO Keyword Research 
Let's say you are an attorney, and you run a company called Davis & Partners servicing your local area. 
You would obviously want to pop up for searches like:
"Attorney near me"
"Davis & Partners"
"Opening hours of Davis & Partners"
"Davis & Partners phone number"
However, these queries aren't traditional. Google displays this type of information directly in Google for faster navigation. 
Google can pull this type of info from Google My Business listings. 
So, how do you find more traditional search queries? How do you find out what you should be optimizing your website for?
One way is to brainstorm your SiLs (Service in Locations). 
Local SEO keyword research is not hard. For most businesses, the keywords they seek to target should be already known. 
Let's say you are an Attorney in The Woodlands. You'll probably want to appear when users type in:
"Attorney in The Woodlands"
"Attorney in The Woodlands Tx"
"Law Firm in The Woodlands"
You will notice the consistent format. That is service in location (SiL).
To compile your list of target phrases isn't rocket science. All you need to do is make a list of all your services or search phrases that users are likely to search for and a list of the locations you service and merge them to create an extensive list.
You will want to allow for plurals too. E.g. "Attorneys in The Woodlands" and "Law Firms in The Woodlands". 
You will want to include more specific, relevant keywords such as 'Family Law Firm" or "DUI Attorney" to reach your desired audience. And, don't forget to add the surrounding cities you serve as well. 
There are many places you can find listings that will give you insight into good keywords to use for your local SEO. Craigslist, Yelp, and Google Autocomplete are just a few examples.
Search Suggestions reports in Ahrefs Keywords Explorer can save you a lot of time researching keywords, as opposed to using Google manually.
Claim Your Google My Business & Bing Places Listings
Claiming and then optimizing your Google My Business listing is probably the single most important aspect of local SEO; followed by Bing Places.
Again, not rocket science, just click on the link above for Google and follow the instructions.
Google My Business is completely free and simple to use for all businesses to manage their online presence across Google and Google Maps.
Here are the simple steps to follow:
Step One
You have two options:
Create a new business
Claim an existing business
Type the name of your business, and Google will search in their system. If one has been created, you will see it pop up. Create a new business if not.
Your business name should not include keywords. For example, if you run a cake shop in Houston called Cake it Away, do not be tempted to enter something like "Cake it Away Cake Shop Houston".
Adding keywords that are not part of your business name is against Google My Business guidelines.
Step Two
Next, you'll be required to enter your address.
If you are claiming an existing business already in Google's system, this will be pre-determined.
If you have a traditional brick-and-mortar business or shopfront, simply enter your address.
However, you may be confused about what to enter if:
Your business is mobile (for example a plumber)
You work from home
You have partners, and you all work from home
You have multiple offices or locations
You have a virtual office but no physical office
This is my advice if any of the above applies to you:
If you service clients at their locations (for example a service-based business like a plumber), you will need to enter your address, but click the boxes that state you deliver products or services to customers and hide your address.
If you have multiple partners working from home, list the home address of the partner nearest to the primary service area of the business. You also choose to hide your address if you don't want a home address visible to the public. 
Do not use a virtual office unless that office is staffed. Listing an unstaffed virtual office is against the GMB guidelines. Use your home address instead.
The most important thing to remember here is consistency is key. Your address should be the same across the internet, including your website and other business listings you have. 
Step Three
You are only allowed to select one category when setting up your GMB listing.
For more detailed advice about how to select the correct category click here.
Here's an excerpt that will suffice for most people:
Select categories that complete the statement: "This business IS a" rather than "this business HAS a ." The goal is to describe your business holistically rather than a list of all the services that it offers, products that it sells, or amenities that it features. (Source)
Select the most appropriate category. If you are still confused, take a look at your competitors.
Step Four
Enter phone number and website (optional)
This is pretty self-explanatory, but here is some advice from Google.
Step Five
Before your Google My Business listing is live, you need to verify it. Verification typically is
done via phone or postcard.
Once this process has been completed, you would have successfully set up and verified your GMB listing.
Optimizing Your Google My Business Listing
Now the real work begins. Once you have successfully set up and verified your GMB listing, it is time to optimize your listing.
Here is a list of things of the fundamentals that you should do immediately to optimize your listing:
Add more categories
Upload photos relevant to your business. If you have a shopfront, add photos that showcase your location. Uploading images that have been taken on your property or nearby will have location metadata attached for further optimization.
List trading hours
Add relevant attributes such as amenities
List a complete list of services or products offered
Get Reviews
Google reviews have become an essential part of digital marketing, particularly for local businesses.
Reviews provide social proof to prospective customers, letting them know if your business is worth a visit, as such, many potential customers turn to Google before engagement.
Before you attempt to gain customer reviews, you should familiarize yourself with Google's review policies and guidelines which can change at any time.
Having many favorable reviews from past clients is an integral element of the Google My Business algorithm. It makes sense that Google would want to reward businesses that have demonstrated an ability to successfully fulfill their customer requirements with higher rankings than their competitors.
Request customers write reviews via a short URL that's specific to your business. Encourage your customers to spread the good word about your business by following these best practices:
Reviews should be honest and unbiased. Business owners should not offer incentives to customers in exchange for reviews. Read more on review posting guidelines here.  
Bing Places
While Google is still king in the search engine world, it will pay to also be listing on the second most popular search engine, Bing.
Bing Places is the equivalent of Google's Google My Business.
While Bing only has a 7.81% market share in the US, which makes it significantly less important than a listing on GMB, it only takes a few minutes to set up your profile. And, many businesses do not go to the trouble of doing this, meaning there is less competition.
NAP (Name, Address, Phone) Citations 
NAP citations are online mentions of your business, which display your business name, address, and phone number. This is called a NAP citation within the SEO community.
NAP citations are found on various websites on the internet such as Yelp, Yellow Pages, and other online directories.
Why NAP Citations Are Important
A NAP citation acts similarly to a backlink to a website; the more citations a business has, the greater the signal to Google is the business is a reputable organization deserving of top ranking. Consistency is key because consistent NAP info across the web serves to further validate the data Google has on file.
On the other hand, inconsistent NAP info serves only to confuse and misdirect Google and Google users.
On-Page Local SEO 
Up until this point, we have discussed in detail the aspects of Google My Business and – to a lesser extent – Bing Places. However, there is another side of local SEO; that is the traditional on-page SEO practices that influence organic search results relevant to local searches.
Traditional on-page SEO strategies apply within the local SEO sphere, including:
Keyword in page titles
Keyword in URL
Keyword in H1-H6
Compelling meta descriptions
If your business services multiple locations and you want to rank in each of the cities you service, it's advised you set up local landing pages.
Example:
yourbusiness.com/city1
yourbusiness.com/city2
yourbusiness.com/city3
There are many examples of websites or businesses successfully doing this. Think of all of the nationwide companies that provide services such as plumbing or car hire that have multiple locations and need to rank highly for all of their service locations. They do this by setting up dedicated local pages. Here is an example of how Roto-Rooter do it.  
Using dedicated local pages, they are able to rank highly for phrases such as "plumbing location" and "plumber location" across the United States. 
Don't be tempted to go overboard with this technique. Remember only to add local pages to your website that make sense and avoid the temptation to add hundreds of local pages for the sake of gaming the search engines. 
Optimize Your Home Page
Also, don't forget to optimize your home page for your primary service location. Most businesses will benefit from doing this.
I understand you may be thinking, won't that negatively impact the ability of my website to rank for other service areas? Why would I want to restrict myself to one location?
Here's why…
When searching for a service such as car hire or plumbing, despite not adding a geo-specific keyword, Google still shows localized results. This is because they can determine the user's locations from GPS or IP. They know where you are already and will add the local modifier on their behalf. So, you might as well optimize your home page for your primary service area.
This can be done by:
Adding NAP information (in the footer, unless you have local landing pages for other physical locations)
Embed a Google Map displaying your location (this can help customers see where you're located)
Add relevant schema markup (read below for more on this)
Does your business have multiple locations? Read on…
If your business has multiple locations, such as Roto-Rooter, you would be exempt from optimizing your home page for a single location. In this scenario, it wouldn't make any sense.
Instead, Roto-Rooter would be best served to optimize their home page for relevant keywords, such as a plumber, plumbing, emergency plumbing, etc.
Add Schema Markup 
Schema Markup is simply an additional code that gives Google additional info about your business, helping them to understand the data on your website better. You needn't be overly technical to implement Schema either, as Google's Structured Markup Helper does all the heavy lifting for you.
Just tick the "local businesses" checkbox, paste in one of your page's URLs, then hit "start tagging."
The selected webpage will load in a visual editor, here it is a matter of right-clicking any desired on-page elements and choosing the relevant markup items from a list. 
Your page will load in a visual editor. Adding schema.org markup is as simple as right-clicking any appropriate on-page elements and choosing relevant markup items from a list.
You can add markup for many factors including opening hours, additional phone numbers, cell phone numbers, email, and more. Just ensure that this data is consistent with your Google My Business listing.
When you're finished, hit "create HTML and select the JSON-LD format. Then, you will see code snippets that you can test using Google's Structured Data Testing Tool.
Just paste the HTML code, and the tool will highlight any errors. Fix any mistakes and then paste the amendment code into the header section of your site.
Off-Page SEO
Link signals are the most important ranking factor for local organic results, according to this survey from Moz, from 2017.
For the 3-pack on Google's local maps listings, they are the second most important factor.
Every business should incorporate a link-building campaign into their SEO efforts, focusing on a base set of links with NAP citations on leading directories, especially those that are relevant to their business. 
However, these type of links is typically nofollow. So, you should think of creative ways to build links on websites that will provide follow links too. 
Some suggestions include guest blogging, where you create valuable content in exchange for a backlink to your website.
This strategy can help gain exposure for your business too. In this respect, think about the audience you want to reach and offer guest blogging services to other sites that have the potential for targeted traffic—for example, a local blog or an industry-specific website.  
Finding local blogs is easy. Simply google these examples:
Location "write for us"
Location "write for me"
Location "guest post"
You can do the same to find industry-specific websites. Simply replace "location" with your industry-specific keyword. 
Another strategy to help you find backlinks is to spy on your competitors. Tools such as Link Intersect and Backlink Watch help you find sites where your competition is building links and NAP citations.
For more information on link building, check out 7 Actionable Ways to Loot Your Competitors' Backlinks or The Noob Friendly Guide to Link Building.
Conclusion 
Following the above steps, can dramatically improve your local SEO. Granted there is a lot of information here to decipher. However, it doesn't need to be done all in one hit. As with traditional SEO, local SEO is a marathon, not a sprint. A consistent and continual effort will reap big rewards.
By following the tips and tricks above, slowly but surely, you can expect to outrank all of your competition to find your deserved spot at the top of Google's organic and snack pack results.